The white farmhouse was just what Emily Hewett and her husband were looking for when the time came to buy a larger house for their family. It had the space the family—which includes now three-year-old twins and two large dogs—needed and a look interior designer Emily and her husband loved.
Once the family moved in and the time came to refresh and remodel the home, Emily, principal with Dallas-based A Well Dressed Home, took her cues from the home's original styling.
"The inspiration for the interior came from the exterior—farmhouse," she says. "But we didn't want it to feel too rustic or Shabby Chic, so we opted to keep the furnishings more tailored to help it feel sophisticated." Within that farmhouse theme, Emily found flexibility to give each room its own unique feel while maintaining cohesive styling throughout the home.
"I didn't want the house to feel like a bunch of themed rooms; I wanted it to feel like a united home."
ON DISPLAY
When designer Emily Hewett and her husband purchased their home, they knew they were going to be making a number of changes. High on that list was replacing the open shelving in the kitchen, but it didn't take long for the couple to fall for the open shelving and decide to leave this aspect of their kitchen as-is.
Even though she's now a fan, Emily understands why some homeowners are adverse to open shelving.
"Homeowners can be so afraid of open shelving, many are afraid their dishes will collect dust over time, and, of course, they do," she says. "But guess what, dishes collect dust sitting in cabinets as well, so what's the difference? It's such a great way to display dishes and create interest in your kitchen."
There are a number of options to add open shelving in your kitchen. Emily's kitchen features shelves on brackets. You can update your cabinetry by removing doors or installing glass panels. Fill your shelves with all-white pieces to fit your white kitchen, brightly colored pieces for a vibrant pop or switch out the pieces with the seasons (for example, pale pinks and greens are lovely in the spring; red, white and blue are a perfect summertime combo; oranges and purples warmly welcome autumn; and reds, blues, silver and gold can be mixed and matched for winter vignettes).
Outside-In
Since the farmhouse exterior was what originally attracted Emily to the home, she wasn't going to make any major changes, just improvements. Out front, Emily had the doors painted, added an overhang, shutters and flowerboxes, and updated the landscaping. All of these changes add to the farmhouse charm.
The backyard underwent more drastic changes. Removing grass and a small deck made room for a new pool and landscaping that features artificial grass, which Emily says has been great to have around the pool. A wall was removed from an unused interior room to transform it into an outdoor space that the family uses year-round.
A wall was removed to transform this interior room into an indoor/outdoor cabana space that the family uses year round.
"We wanted to add curtains to give it a resort/cabana feel," Emily says. "It's such a great place to watch the kids swim, have lunch in the summer or snuggle up with a glass of wine in the winter."
These outdoor spaces are decorated with the same whites, grays and neutrals that continue inside the house, but the pops of blue and nautical accessories give these areas a personality all their own.
"The exterior and interior of the home completely complement each other," Emily says. "We went with the same farmhouse style inside and out. We even used the same color scheme so everything feels cohesive."
Beautifully Illuminated
Designer Emily Hewett installed chandeliers throughout her home, using these light fixtures to fit the style of each room, selecting pieces that range from glamorous to rustic. Emily's home has metal, crystal and even antler chandeliers, each one complementing the farmhouse style of her home.
"If you choose to use several chandeliers [in your home], be sure they complement each other without seeming matchy-matchy," she advises.
Design is just one factor to consider when selecting chandeliers for your home. If you choose vintage or antique pieces, be sure the wiring is up-to-date or work with an electrician who can make the needed upgrades. A trusted dealer can help you secure the fixtures that will add that special touch to your home.
Size is another important factor. Take careful measurements to ensure the chandelier will fit the room. Too large a fixture can overwhelm the space; too small a fixture won't add the pop you're looking for. As with any installation, be sure the ceiling can support the weight of the chandelier. Bring in an expert if you have any questions.
Each room in the house has a cohesive farmhouse feel, with slight variations to reflect the personalities of family member. With floral accents and a chic chandelier, daughter Stella's bedroom offers a shabby elegant spin farmhouse style.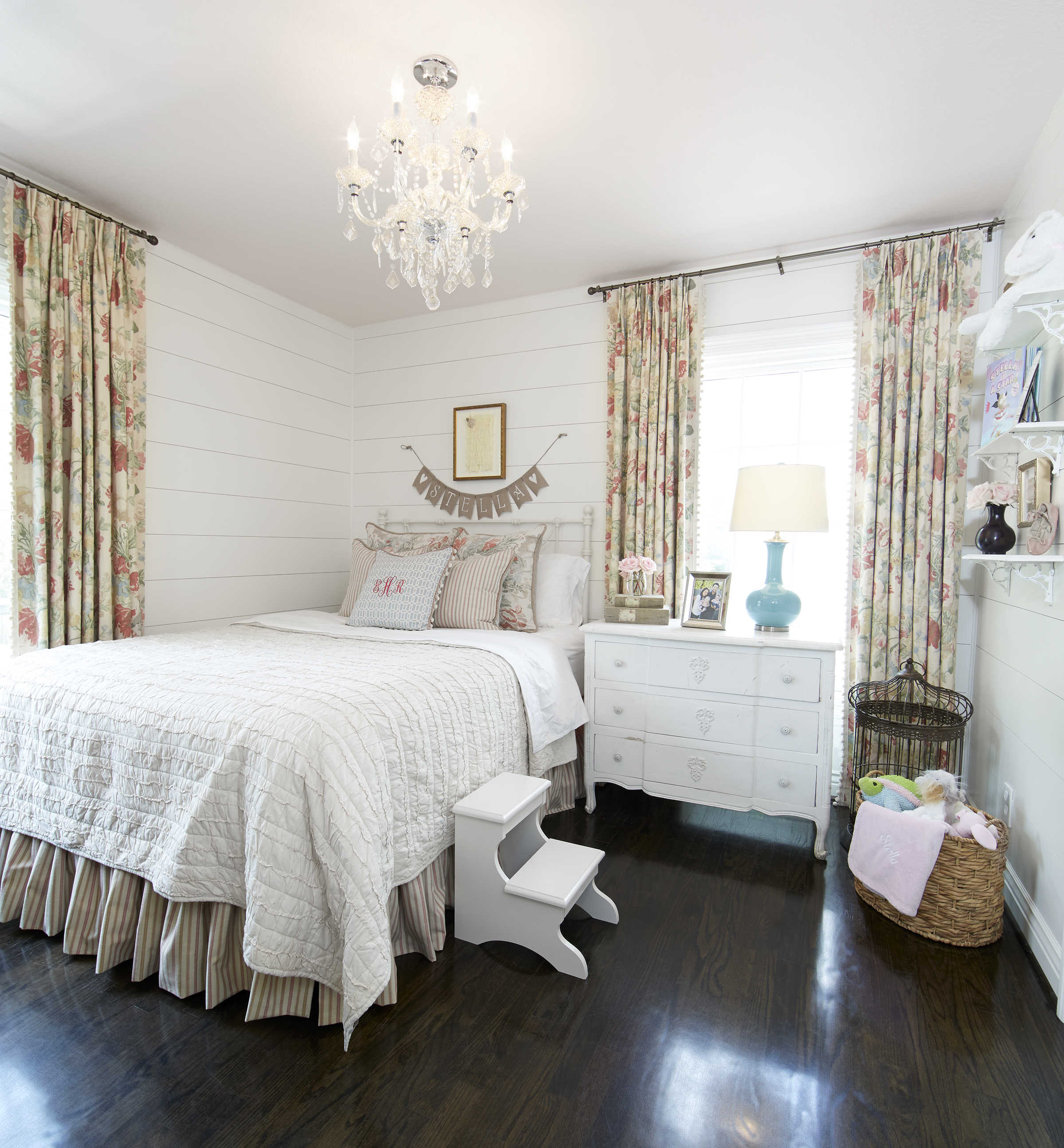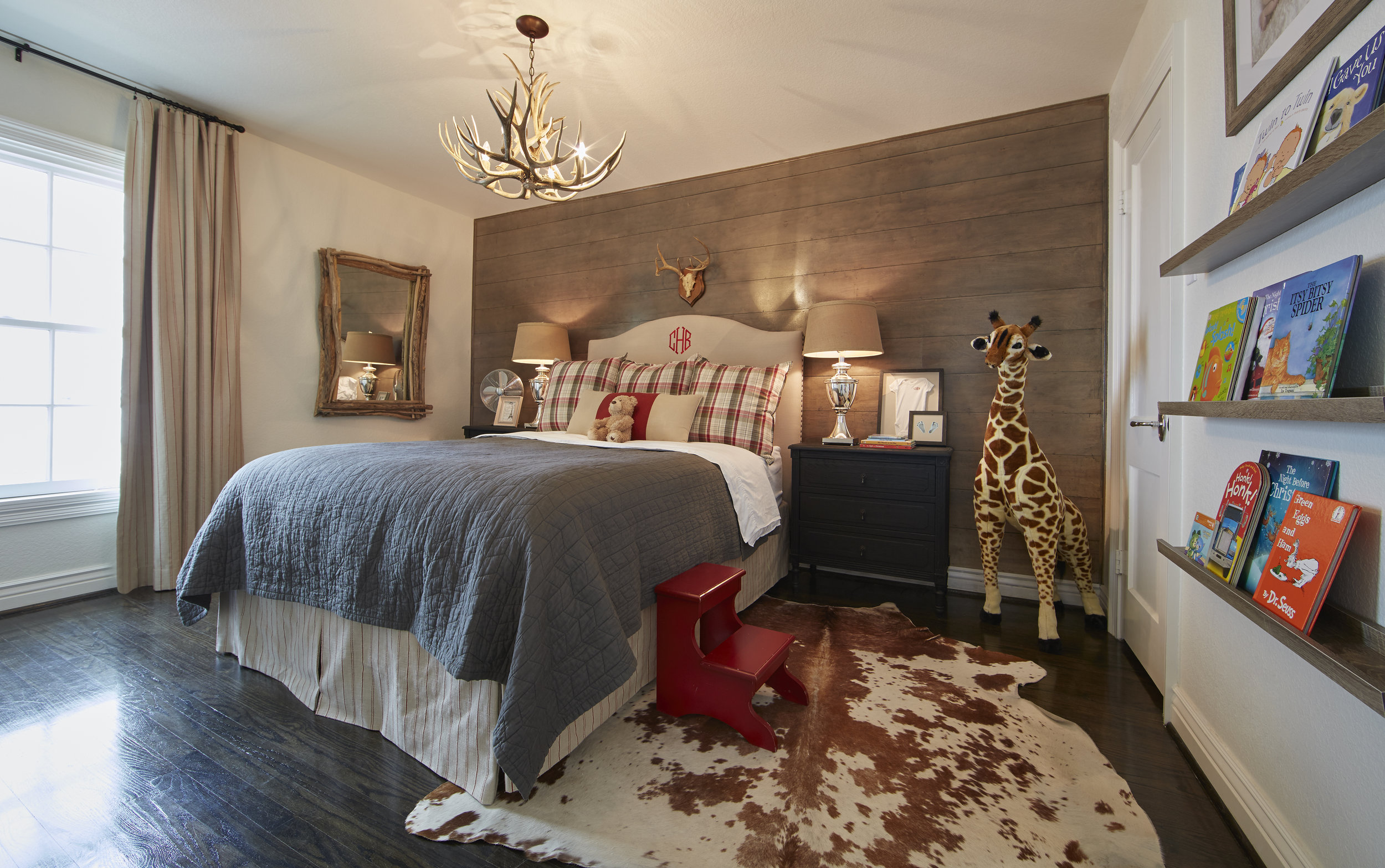 Son Beckham's room features a more rustic take on farmhouse styling with its stained shiplap wall, antler chandelier and cowhide rug. Emily chose red accents to reflect his fiery personality.
Family Time
The living room was the first room Emily tackled inside the house. The previous owner used heavy, antique-style furnishings, which made the home feel dark, so the designer decided to lighten things up. The room, an open space that also encompasses the dining area and kitchen, features white shiplap walls contrasting against dark wood floors and ceiling beams. Tailored neutral furnishings bring a casually elegant feel to the living room.
Animal print pillows provide texture and visual interest in the living room and dining room, and these patterns are found throughout the home. "Animal prints are a neutral in my house," Emily says. The all-white kitchen is warmed by light wood accents, including the bar stools set around the island. Like many rooms in the house, a chandelier lights this space.
Personal Space
The bedrooms maintain the home's farmhouse style, but each in a unique way that lets the personalities of the family members shine through.
"Cohesion is everything to me," Emily says. "I didn't want the house to feel like a bunch of themed rooms; I wanted it to feel like a united home. Even though the exact color scheme of grays and whites is carried throughout most of the house, we went with different colors in the kids' rooms to reflect their personalities; however, their rooms still feel farmhouse-esque and like part of the home."
Daughter Stella's room is a shabby-elegant dream. White and natural wood furnishings complement the shiplap walls and dark wood floors. White bedding, floral curtains and a chandelier add to the charming vintage-inspired feel.
Son Beckham's room offers a more rustic interpretation of farmhouse. The shiplap in this room was stained instead of painted white. Blues and pops of red accent the wood furnishings. A cowhide rug and toy giraffe continue the animal print theme found throughout the house. An antler chandelier is a fitting finishing touch.
The master suite adds a touch of glamour to this farmhouse. The existing porcelain hexagon tiles found new life when matched with white marble countertops in the bathroom. Gold accents, animal print curtains, tailored furnishings and chandeliers amp up the sophisticated feel of the suite.
The white rooms, with their tailored furnishings and unique accents, help Emily find serenity in her farmhouse.
"It's calming to me," Emily says. "I live a very busy life and I have a mind that never stops, so our home feels peaceful to me."
The master bathroom has a glamorous feel with its marble countertops, gold accents and original porcelain hexagon floor tiles. The white shiplap walls tie the room in with the styling of the rest of the house.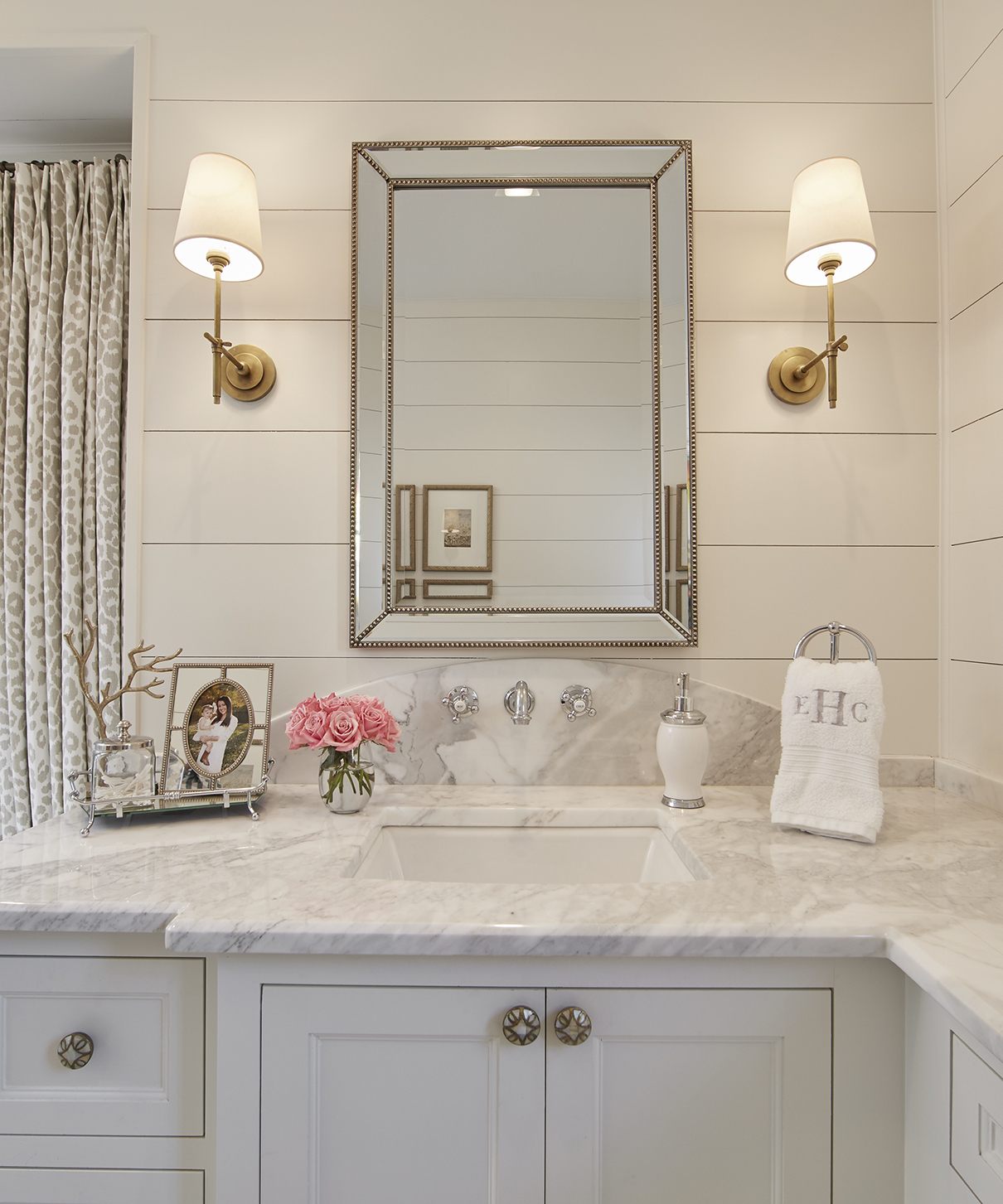 Emily and her husband updated their backyard by removing a deck, adding a pool and installing artificial grass. The renovated master suite has French doors that lead to the pool.
The shiplap continues into the master bedroom. Like the master bathroom, it offers a chic, glamorous take on farmhouse styling.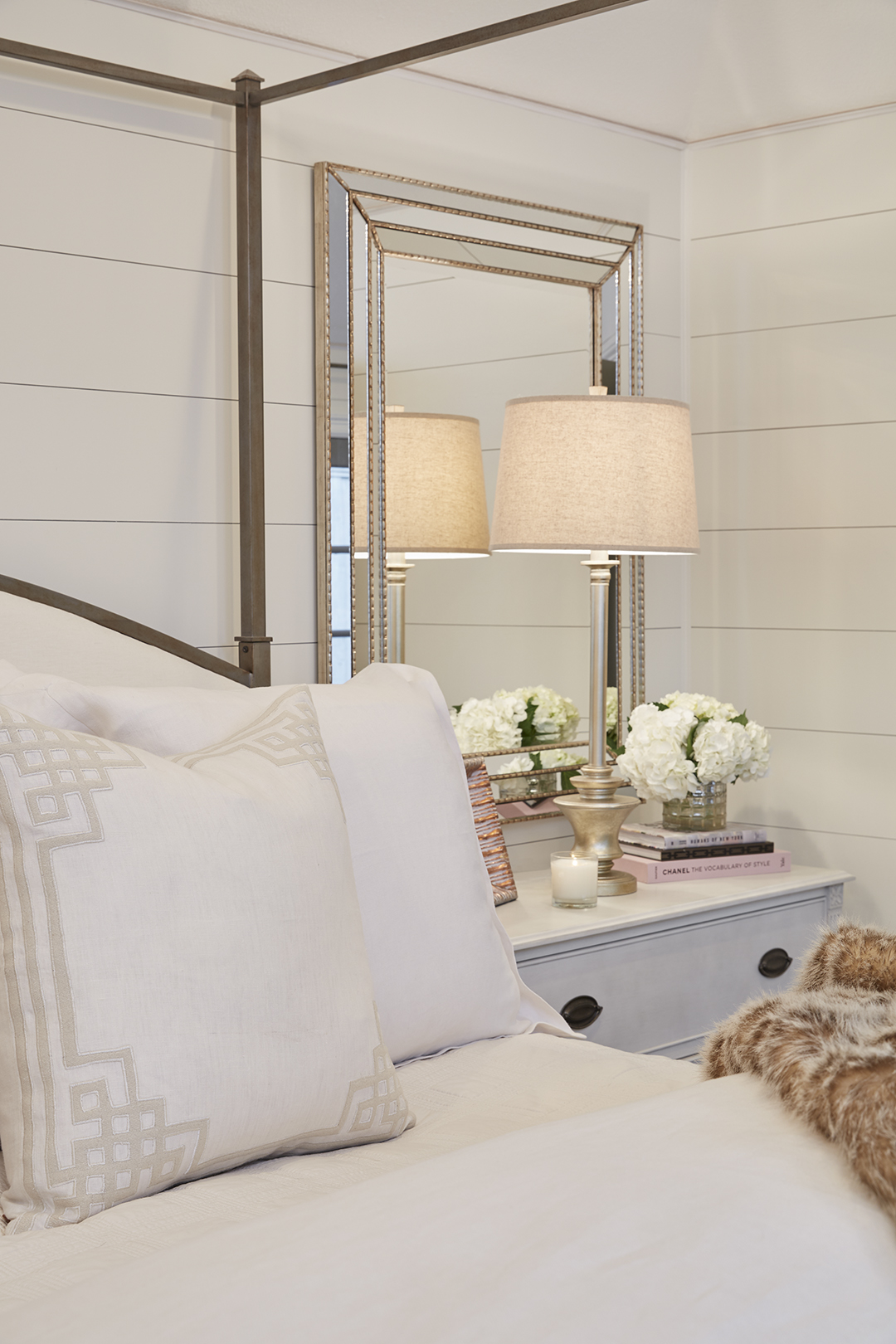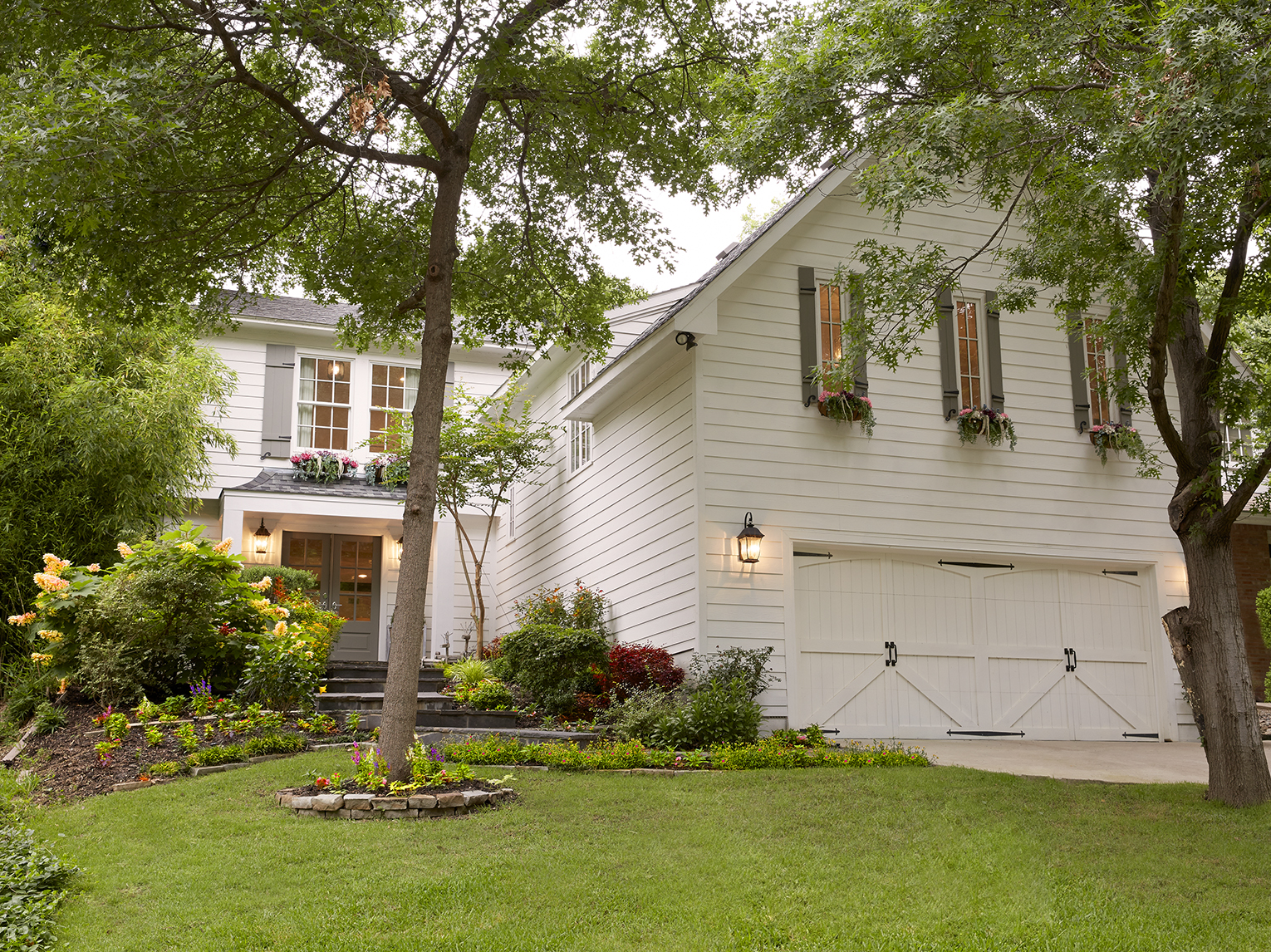 The farmhouse feel of the home's exterior influenced Emily's decor choices for the interior. When her family purchased the home, she painted the front doors and added an overhang, shutters, flowerboxes and new landscaping.